WVPT Today
Our Beginning
Open Meetings
Closed Captioning Issues
EEO Outreach Report
2014 Local Content and Services Report
WVPT Awards
Report a Reception Problem
WVPT Today
Since 1968, WVPT has been the Shenandoah Valley and Central Virginia's public television station. But that's just scratching the surface. WVPT is also a classroom, a concert hall, a conference center, a college, and a library of the airwaves. WVPT is one of the most accessible educational institutions in the region, utilizing the power of broadcasting to help carry out its mission of education, culture, and citizenship for everyone within its reach.
Beyond an exciting mix of public broadcasting and locally produced programming, WVPT conducts groundbreaking literacy programs, science-related family events, morale-building awards projects, community assistance projects and educational seminars. The reason? To educate all ages, affirm high ideals for social good, assist neighbors in need, promote our diverse culture, and to celebrate life in Virginia.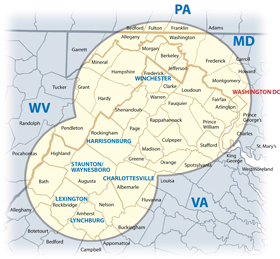 Local series and specials lift up unique cultures that make up the WVPT viewing area, remember times when the human spirit triumphed in adversity, open up pages of little-known area history, and promote that which is "Virginia" and of which we can all be proud.

WVPT's over-the-air broadcast coverage area consists of 40 counties.
The signal is also carried on numerous cable channels, including Charlottesville, Lexington, Lynchburg, Harrisonburg, Staunton, and Winchester.
WVPT is carried on DirecTV in the Harrisonburg Market. WVPT's sister station WVPY, licensed to Front Royal, is carried on both Comcast and Shentel Cable in the Hagerstown/Washington, DC Market.
Our Beginning
A small group of visionaries filed a petition with the Federal Communications Commission January 7, 1966 for the establishment of the Shenandoah Valley Education Television Corporation. Dr. G. Tyler Miller, president of Madison College; Arthur Hamilton, who would become WVPT's first general manager; Dr. O.L. Boyd of Augusta County Schools; and Wilbur Pence of Rockingham County Schools wanted an adequate facility to broadcast educational programming to local schools. Land for the offices was leased from Madison College on September 1, 1967 and the building program began in January 1968.
WVPT first signed on the air September 9, 1968, initially broadcasting from 9:30 a.m. to 3:30 p.m. weekdays with instructional programs geared to children from kindergarten to senior high. Taking many giant leaps from there, WVPT has grown to become the vibrant institution it is today. Thank you for the privilege of serving you.
Open Meetings
In keeping with WVPT's open meeting policy, Board of Directors, Community Advisory Board and other advisory committee meetings are open to the public. Below is a list of Board of Directors and Community Advisory Board members. For more information about meeting dates, location and time please call (540) 437-2455.
SHENANDOAH VALLEY EDUCATIONAL TELEVISION CORPORATION
2015 BOARD MEMBERS

Neal Menefee – Senior Vice-President Rockingham Group
Chairman
Harrisonburg

Stephen Davis - President, Community Investment Collaborative
Vice-Chair
Charlottesville

Jim Fries - BrownEdwards
Treasurer
Harrisonburg

Richard Parker – Former WVPT General Manager
Secretary
Mount Crawford

Tony Mancari - President & General Manager WVPT
Bridgewater

Doug Guynn – Attorney Botkinrose PLC
Harrisonburg

Tassie Pippert – Instructor, School of Hospitality, Sport and Recreation Management, James Madison University
Harrisonburg

Ruth Jones – Communications Manager, City of Staunton

David J. Urso, Ph.D. - Dean of Life Sciences & Human Services at Blue Ridge Community College

Jim Krauss

Jon T. Sayre – Vice President, Business Banking Wells Fargo Company

COMMUNITY ADVISORY BOARD

Dr. Erwin F. Bohmfalk,Jr.
Mrs. Alden B. Bradford
Mr. Patrick Farris
Mr. George Gillies
Mr. Peter Jones
Mrs. Marie T. Overstreet
Ms. Justine Rose
Dr. David Shreve
Board meetings will be open to the public. Strict security enforcement requires visitors to call 540.437.2455 to confirm attendance for the meeting. For security purposes, please be prepared to show your Virginia's driver's license in order to gain access to WVPT premises. No one will be allowed entry to the meeting without pre-confirmation and appropriate identification. Thank you.
Finance Committee:
Tuesday, October 11th, 2016 at 1p.m. i

n the WVPT Community Room
Nominating Committee:
Friday, October 14th at 11:00 a.m.
Development Committee:
Monday, October 3rd, 2016 at Noon
Investment Committee:
Wednesday

, October 19th, 2016 at 11:00 a.m.
Executive Committee:
Wednesday

, October 19th, 2016 at Noon
Board of Directors (Strategic Planning)
Board of Directors:
Wednesday, October 26th, 2016 at 3:00 p.m.
Community Advisory Board
Monday, November 14th, 2016 at 10:00 a.m.
Closed Captioning Issues
To contact WVPT about our closed captioning service or advise us about captioning problems, please contact the [WVPT] [WVPY] engineering team. We accept calls using [TTY/TDD and] the Telecommunications Relay Service, and we are available during normal business hours to address captioning issues.
The WVPT Engineer on Call
Telephone: 540 578 2917
Fax: 540 434 7084
E-mail:
This email address is being protected from spambots. You need JavaScript enabled to view it.
All programming provided by WVPT complies with the closed captioning requirements established by the Federal Communications Commission as embodied in 47 C.F.R. § 79.1, including regulations concerning closed captioning quality. Programming provided by WVPT complies with these regulations by either: (i) satisfying the caption quality standards set forth in 47 C.F.R. § 79.1(j)(2); (ii) adopting and following the "Video Programmer Best Practices" set forth in 47 C.F.R. § 79.1(k)(1); or (iii) being subject to one or more of the captioning exemptions set forth in 47 C.F.R. § 79.1(d), including programming for which the audio is in a language other than English or Spanish and that is not scripted programming that can be captioned using the "electronic news room" technique; interstitial material, promotional announcements, and public service announcements that are 10 minutes or less in duration; and/or programming that consists primarily of non-vocal music.
To submit a complaint about an issue that cannot be resolved by contacting the Engineer on Call, you may write to:
Tony A. Mancari Sr.
Chief Operating Officer
Shenandoah Valley Educational Television Corporation
Station WVPT(TV) and Station WVPY (TV)
847 MLK, Jr. Way
Harrisonburg, VA 22801
Telephone: (540) 437-2451 or 1-800 345 WVPT – EXT 451
Fax: 540 434 7084
E-mail:
This email address is being protected from spambots. You need JavaScript enabled to view it.
EEO Outreach Report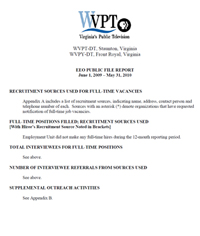 Since the effective date of the new EEO rules, the WVPT/WVPY employment unit has undertaken a number of measures to achieve broad and inclusive outreach in disseminating information throughout the community it serves about specific station employment opportunities, as well as about broadcasting in general. The employment unit has engaged in more than the suggested supplemental outreach effort required for the employment unit for this time period.
As reflected in the Annual EEO Public File Reports charts below, the employment unit routinely utilizes a wide assortment of recruitment sources to disseminate widely the notice of full-time job vacancies to qualified applicants. The employment unit often has promoted specific job openings through local newspapers, including the Daily News-Record, Harrisonburg (circulation 33,000); The News Leader, Staunton (circulation 18,600); The News Virginian, Waynesboro (circulation 8,800), and The Daily Progress, Charlottesville (circulation 32,000). These newspapers enjoy broad circulation-as noted above-in the television market served by the employment unit, insuring broad reach for the notifications throughout the area.
To achieve greater exposure and inclusion, the station routinely disseminates information about specific vacancies to many different outreach or job bank services. Outreach notifications go, for example, to a number of local educational institutions, including James Madison University, Eastern Mennonite University, Radford University, Mary Baldwin College, Bridgewater College, and Blue Ridge Community College and Lord Fairfax Community College. A variety of local groups and organizations also receive announcements, including the Virginia Employment Commission, Working Women's Forum, Rotary Club and various local churches and civic organizations. Furthermore, for production or engineering positions, WVPT uses popular Internet websites of special interest to those considering careers in broadcasting, including PBS Connect, The Society of Broadcast Engineers, and CPB job line. To encourage participation in the station's job notification program, WVPT periodically broadcasts 15-second announcements notifying the public that organizations recruiting job seekers may request the station include them on its outreach referral list.
For financial, employment and diversity information please click here.
WVPT/WVPT DT Staunton & WVPY/WVPY DT Front Royal Annual EEO public file report
EEO Report June 2015 to May 2016
EEO Report June 2014 to May 2015