Urna Chakrabarty moves on to the Scripps National Spelling competition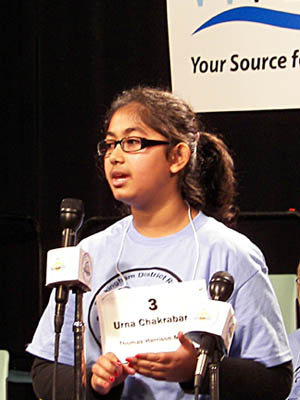 Congratulations to Urna Chakrabarty from Thomas Harrison Middle School for winning the 2012 Regional Spelling Bee. Urna's winning word was "opossum". Urna will now move on to the National Scripps Spelling Bee held in Washington D.C.Today's competition was aired live from the studios of WVPT, and featured students from all over the Shenandoah Valley. The Bee was sponsored by The Rockingham District Ruritans and co-sponsored by The Daily News Record and WVPT.The second place runner up was Anthony Malabad, from Wilbur Pence Middle School, and coming in at third place in this year's competition, was Arianna Williams from Luray Middle School.
Urna will receive an all expense paid trip to Washington D.C to take part in the 2012 Scripps National Spelling Bee. She also received The Samuel Louis Sugarman $100 Series EE U.S. Savings Bond, as well as a one year subscription to Encyclopedia Britannica online. To top it all off, Urna also received a laptop courtesy of Cargill, and a plaque to commemorate the event.
This year's spelling bee was hosted by WVPT General Manager, David Mullins, and Dr. Charlotte McQuilkin stepped in as the pronouncer for the competition. The Rockigham District Ruritans, along with WVPT and The Daily News Record would like to take this opportunity to thank the following businesses for contributing to this year's Spelling Bee: Commonwealth One Federal Credit Union, Frazier Quarry, Rockingham Group, VA 529, Cargill, LD & B Insurance Agency, Dynamic Aviation, Green Valley Book Fair, and PBGH.